Pet Therapy at Riverside Care Home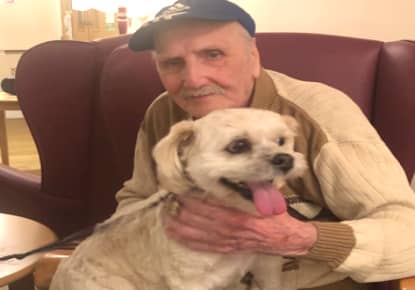 Residents from Riverside Care Home in Barnsley had the pleasure of welcoming an adorable puppy into their home.
One of the Care Assistants from the Barnsley based home brought in his lovely puppy to the home to meet the residents. This was a very exciting visit for everyone, the resident's faces lit up when they saw the puppy, they could not wait to pat and stroke him.
The visit put a smile on all their faces and they all rushed to hold him, the puppy sure did love the attention! Jack said, "it was lovely to spend time with the puppy, he was so lovely to stroke." Seeing the positive effect that the puppy has on the residents was amazing as it left them in good spirits for the rest of the evening.
The staff were so pleased to see the reaction from the residents and couldn't wait to relay to the manager how pleased they felt seeing this. It was a very therapeutic visit for everyone who was present, Jean could not stop raving about how lovely the puppy was.
To keep up to date with news from the home, follow us on Facebook, Twitter, Instagram and YouTube.