Mother and Daughter Gardening at Riverside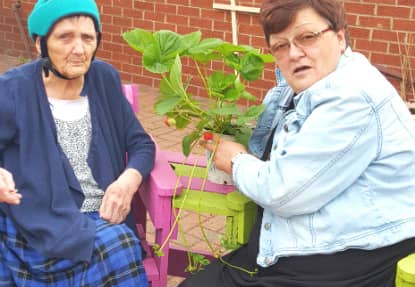 Riverside care home in Barnsley recently welcomed resident Dorothy's daughter Shirley for the day.
Shirley visited the home to see her mother and whilst there, mother and daughter took part in some gardening together out in the courtyard as they both share a love for gardening.  Shirley was very impressed by the staff's efforts to make the gardens look aesthetically pleasing and were more than happy to join in. Riverside home is surrounded by landscaped gardens which are perfect for a spot of gardening or a short walk.
Our homes operate an open door policy and always encourage visitors to come round as often as they can. Shirley visiting left Dorothy feeling very happy as she got to spend time with her daughter. Both her daughter and the staff noticed the impact the visit had on Dorothy as she was left smiling and loved being out in the fresh air.
Shirley kindly bought in a bird feeder ornament for the courtyard and has stated that she will be bringing in more of her own grown plants and flowers for the garden This was greatly appreciated by everyone at the home and we look forward to Shirley's next visit.
To keep up to date with news from the home, follow us on Facebook, Twitter, Instagram and YouTube.