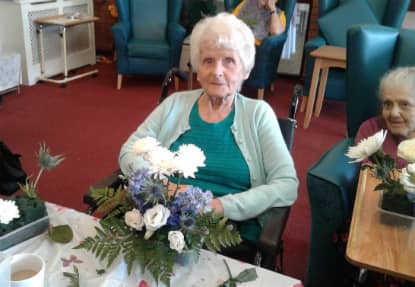 The green-fingered folk at Lymewood Court recently got their hands dirty creating some beautiful flower arrangements.
Lymewood Court, in Merseyside, recently held a flower arranging session with its residents. A local florist arrived at the home with an array of fabulous flowers ready for everyone to choose from, as well as a strange green foam. This "Floral Foam" makes it easy to create flower arrangements. It is incredibly dense meaning that flowers are inserted into the foam with ease. It also stores plenty of water that increases the lifespan of the flowers.
"The foam made it easy for residents to arrange their flowers, however way they wanted." Explained Louise Mitchell, Activities Co-Ordinator at Lymewood Court.
There were a variety of different flowers available for the residents to choose from, ranging from White Roses, Blue Periwinkles and Green Fern Leaves.
 "The session was such a nice experience for everybody and extremely beneficial for those involved. It encouraged a lot of conversation amongst the participants and helped maintain a good level of hand eye coordination. Everyone was extremely proud of his or her work. All of the arrangements look fantastic and will make excellent centre pieces at our home."
To keep up to date with news from the home, follow us on Facebook and YouTube.