Exercise Classes in Full Swing at Fleetwood Hall!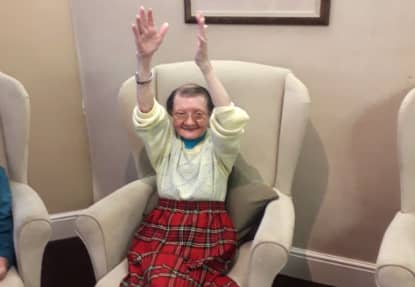 Residents at Fleetwood Hall in Lancashire are starting their mornings off right with an exercise class!
Every morning the residents attend these classes which involve taking part in a variety of seated exercises, they usually consist of 10-15 minute exercises. These sessions have been introduced by the homes improvement manager, Chris Harpham alongside the NHS Occupation Therapist who visits the home and they have a done great job with implementing the sessions.
The classes have been nothing but successful, residents are enjoying them hugely and they have made a massive difference to their mobility, and how active they are around the home, which is lovely to see. There are countless positive effects that the sessions have left, with another one of them being a great improvement to their emotional and physically wellbeing.
All of the staff at the home also get involved with the classes and are hugely supportive and encouraging to the residents so a big thank you to them!
To keep up to date with news from the home, follow us on Facebook, Twitter, Instagram and YouTube.