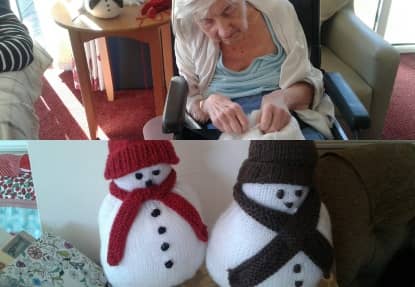 With only five more Tuesdays until the big day, even more Christmas preparations were underway at The Heathers, as residents started to get creative!
Christmas is getting closer and some of us are already getting into the festive spirit. Josie and Gill, residents at The Heathers, in Staffordshire, recently broke out the knitting needles and got to work making little snowmen and twiddle blankets.
This creative session was a huge hit, "Their smiles and laughter just says it all" said Dawn the Activities Co-Ordinator. Not only was this session enjoyed by Josie and Gill, it also caught the eye of the other occupants at the home. Many of them have told dawn that they want to get involved and have plans for more creative sessions to make more snowmen and paint plant pot people to use as Christmas gifts.
This a great example of how beneficial activities like this are, what started out as a small session with just Josie and Gill has turned into something more and more residents from across the home want to get involved in, bringing everyone together over one mutual interest, giving a great sense of community and improving their social life.
To keep up to date with news from the home, follow us on Facebook and YouTube.