Awards Night at Meifod & Vicarage Court!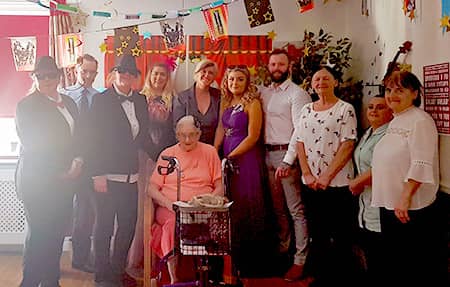 Glitz and glamour were on the menu recently at Meifod & Vicarage Court, as the home got ready for its very own awards evening!
Inspired by the likes of this year's Brit Awards, BAFTA's, and The Oscars, Meifod & Vicarage Court hosted their very own Award Ceremony.
The staff at Meifod & Vicarage Court worked tirelessly in order to make the home look as glamorous as possible, from decorating the room with balloons, banners and a variety of props; to making their own invitations, award certificates and of course… the iconic red carpet. This was a true V.I.P event!
The hosts for the evening were none other than the one and only Blues Brothers (played by Debbie Jarvis and Teresa Hand, one of the Cooks and the Head House Keeper at the home). The iconic duo showed guests to their designated tables where there was food and drink ready and waiting for them.
With everyone seated and looking their best, it was time for the awards evening to commence!
Each resident won a special and unique award, made specifically for them. Some of the awards included, best smile, best dancer, and biggest heart. Residents walked down the iconic red carpet and sat in a golden chair to receive their award, as well as having their picture taken in the golden picture frame.
Residents could not stop smiling all evening and the same could be said for their family members, who were over the moon with the award ceremony.
"It's lovely to see how much effort has gone into making sure all the residents are having a good time, it's wonderful" commented Maria, one of the residents' daughters.
"It's lovely to see John so happy and smiling and he looks very smart in his suit." Added Iris, the wife of one of the residents.
All of the staff worked tirelessly, to ensure that this was an extra special event and something that catered to every single residents' individual needs.
Jen Austin, Care Home Manager commented,
"It has been a really busy few weeks getting organised for this event, but it was so worth it in the end, being able to see both residents and staff all happy and smiling was an absolute joy. The home had such a party atmosphere. The home was bustling all day, and everybody has joined in and had a really wonderful time. Family and friends that have come to visit have been able to make some wonderful memories and has shown that life doesn't have to stop when you come into a care home. I couldn't be more proud of the home and the team, well-done everyone."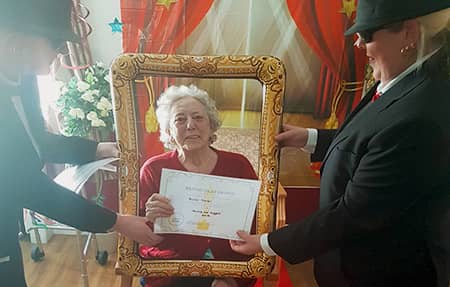 To keep up to date with news from the home, follow us on Facebook and YouTube.