Alice In Wonderland at The Grange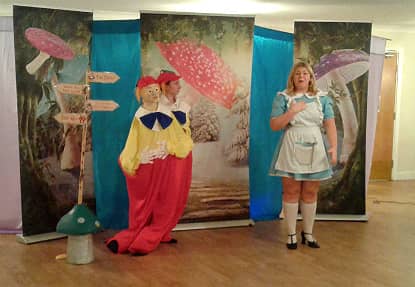 With December upon us, it's not just the Holiday season that we're excited for… It's panto season!
It wouldn't be Christmas without a good pantomime, so the wonderful staff at The Grange Care Centre in Mansfield, Derbyshire, arranged for a local theatre company to put on a special show for their residents and the local primary school.
North East Productions, the Traveling Theatre Company, arrived at The Grange to put on a production that the audience would never forget. The Company brought along a variety of professional props, costumes and even their own set, in order to take everybody at The Grange, down the rabbit hole, with their brilliant production of Alice In Wonderland.
Cries of "He's behind you!" and "Oh no he isn't!" could be heard being called out from both residents and children, in between all the laughter of course!
Everybody loved the production, "it was absolutely fabulous'' commented Mabel, one of the homes occupants. ''I loved the white rabbit, he was hilarious." Added Margaret. It was also a great joy to share the experience with the local school children, with Herbert adding, ''It was lovely to see the little ones laughing, absolutely fantastic!''
To keep up to date with news from the home, follow us on Facebook and YouTube.