A Date to Remember at Longridge Hall & Lodge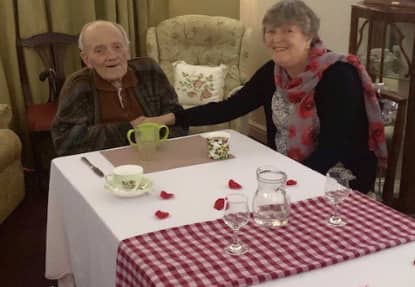 Longridge Hall & Lodge in Preston have introduced a wishing tree into their home for their residents to share their wishes and the home will then attempt to complete these.
John had a very simple wish, he wanted to take his wife on a date, the home rallied together and made this wish come true for the happy couple. The staff decided to turn one of the room's quiet lounges into a romantic restaurant-style setting for John and his wife.
String lights were hung around the room and a vase was filled with red roses and placed in the center of the table. Rose petals were placed around the table as John sat awaiting the arrival of his beautiful date Ann.
John welcomed Ann with a bunch of sunflowers and she was ecstatic with the surprise, they both enjoyed a two-course meal and had some lovely quality time together. Ann later expressed her gratitude to the staff at the home, "thank you so much for arranging a date for John and me, I was very touched and we both really enjoyed ourselves."
To keep up to date with news from the home, follow us on Facebook, Twitter, Instagram and YouTube